For our fourth video of our #ittakesavillage series: Pathway to Empowerment, we offered a glimpse of the empowering and inspiring story of Nasianda. To get to know her more, below is a Q&A that we had with her.
Question: What have you been doing after graduating from your course?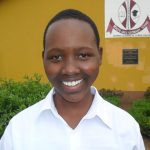 Nasianda: After graduating from my course, I asked to work selling a store for someone who gave me a little money every day, which helped me to meet my needs. After two months, I got a chance to work in my field at United Brilliant Solutions (UBS) is a company involved in various projects such as water projects, roads construction projects and various building construction projects. So, I had the opportunity to continue volunteering to work with them and we are currently working on a water project in Tanganyika District, Katavi Region. We hope to complete this project in the ninth month as the end of the contract is that month.
Question: What have you learned about yourself in your journey from pre-form 1 to secondary school then to university
I have learned not to give up in achieving my goals
I have learned to manage myself and run my own life
It doesn't matter if I go through many challenges that break my heart, but I always encourage myself believing that challenges help me to achieve my success
I have learned to distinguish between good and bad friends that i meet in the cycles of my life, so I have to avoid bad friends who in one way or another can ruin my life
I have learned to fight for my life by myself without hoping that I will get help from anyone
I have learned to live with a little I have and not to wish for people's things that I can't afford at the moment.
I have learned that I always have to fight as much as possible so that later my family and society in general will be proud of my presence
I have learned to do things that I enjoy from my heart and not to do anything to please people
Question: What are your struggles in the different stages of your life? How were you able to overcome them?
Nasianda: The biggest struggle I had in various aspects of my life is to strive to study hard from 2004 to 2022. I was in an environment of fighting for education and in 2023 I managed to get that education and I have achieved success by investing my efforts and all my time and energy as well as giving myself fully in doing all the activities related to the subjects I studied and at the of the day, I thank God that I have been successful to that extent.
Question: Can you give us new information about what is happening with your family?
Nasianda: My family continue with farming but I'm so sad to inform you that last year on 21st of the 11th month we lost our father together with my younger son who follows me had an accident so now we are left with one parent who is our mother. I have two younger sisters; one is currently in the fourth grade and the other is in form two in Terrat secondary school.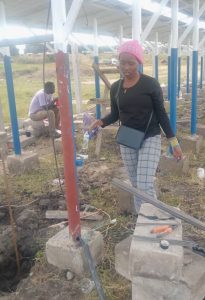 Question: What are your triumphs in your life?
The biggest victory I got in my life until now I have been awarded a bachelor degree in civil engineering.
I have successfully joined the Engineering Registration Board (ERB)
I have successfully registered as a graduate engineer
I have managed to send a letter to ERB requesting to continue studying structured Engineers Apprenticeship Programme (SEAP). I am currently waiting for the response to that letter.
Question: What are your feature goals?
To help my family, especially my younger siblings who are studying so that they can achieve their goals.
I have goals to find a plot and build
I have goals to become a great and good Engineer for the whole community
I have goals to come later to have a company in order to provide various aids to the poor
I have goals to create various field that will help me to get money
Question: How are you planning to give back to your community after being given the opportunity to continue with your education?
Nasianda: I am well prepared to use the education i have acquired for the benefit of society in general, especially in the field I have studied through giving people technical advice which enable invisible things to be visible.
Question: What are you grateful for in your life now?
Nasianda: For now, I am very grateful to God for finishing my studies safely and I am asking him to fight for me for the three years of continuing to study so that I can finish safely and get what I deserve. Also, I am grateful that now I am a graduate engineer.
********************************
The video "Pathway to Empowerment" is part of our Emusoi #ittakesavillage Series that features our different partners in educating, empowering and inspiring young women from the Maasai, Taturu, Tatoga, Barbaig, Hadzabe and Ndorobo communities of Northern Tanzania. Below is the video about Nasianda's story.