Emusoi: Maasai girls tell their stories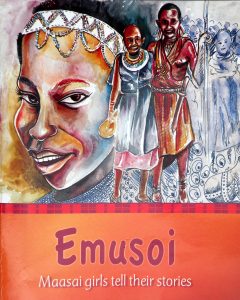 Emusoi is a precious and important social document. On one level, the stories teach us about an important part of Tanzanian culture. What better way to learn about life in a traditional Maasai boma than by listening to someone who lives there? The illustrations are a powerful addition because they are not created by someone sitting in a studio on the other side of the world, but by a young Tanzanian artist who grew up with the colours and textures of Maasai culture all around him.
Forward by Tunu Bwegambile (an excerpt)
---
The Emusoi stories are also a testimony to the vision, courage and determination of a group of exceptional young women. Each one realized the importance of going to school – not only for herself, but also for the future survival of her family and community. Coming from a culture where formal education of females was perceived as a threat, the Emusoi girls had to fight for their schooling. Even when their struggle led to division and heartbreak within families and communities, they refused to give up.
On a deeper level, the book offers a unique insight into the dilemma facing the Maasai today: the tension between tradition and progress, between preserving the past and adapting for the future. The Maasai are an endangered people. If they do not adapt to the modern world, their culture will die. Adapt too far, and their culture will die anyway. The Emusoi girls are at the very centre of the dilemma. They are torn between their conviction that the survival of their people depends on them going to school and their deep loyalty to a culture that does not traditionally have formal education…
---
Below are some insights from two of the six exceptional young Maasai women featured in the book Emusoi: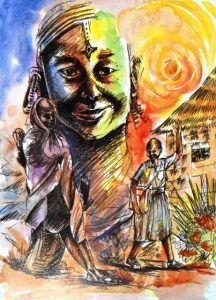 "The Future of Maasai depends on the education of women. What good is it if only a handful of us are educated? Our voices will not be loud enough!"

– Naha Shuaka
"Things are better now. My father is beginning to understand why my mother wanted me to go to secondary school. He is beginning to see that our way of life will not survive unless we change."

– Neema Laizer 
---
If you wish to get a copy of Emusoi: Maasai Girls Tell Their Stories, you can order it online via Amazon.com and Amazon.uk
---
Tunu Bwegambile MA (Ed) is the seventh child of Chief Mwinamila Lukumbuzya and Queen Corona Musegena of Ukerewe Island. She is a member of the Wasilanga clan and comes from a long line of strong women who understand that formal education and their African heritage have shaped who they are. Tunu's childhood was filled with rich cultural experiences because her father's career as a Tanzanian diplomat took his family all over the world. She realized that her own culture was of equal value and that is heritage should be preserved in an ever-changing world.
---
About the Author: Kasia Parham is a middle school teacher and writer. She is currently living in New York City with her family. To know more about Kasia, Click HERE
---
About the Artist: Emmanuel Von Mathias is the illustrator of the book. He is a young Tanzanian artist who grew up with the colors and textures of Maasai culture all around him. He is currently living in Dar Es Salaam.