May Grace and Peace Be With You All!
Christmas 2022
Dear Friends,
HAPPY THANKSGIVING,

MERRY CHRISTMAS,

AND HAPPY AND PEACEFILLED NEW YEAR! 
I am writing to send you my Christmas appeal and to thank you for your generosity throughout the year. You are partners with us as we work to empower the young women of Emusoi, helping them to discover their talents and gifts and the value of education for themselves, their families, their communities and their nation.  Without your help, we could not continue.
This year, we were able to support almost 300 girls in pre-secondary to college education and to welcome 16 new students who have joined the pre-secondary course for 3 months and will join secondary in January. This year, we had 30 students join advanced level studies and 19 finished advanced studies in May.  Of these 19, all but four qualified for university.  They have received student loans and began their courses in October. Four students have completed diploma courses in secondary education.  All passed their exams and are now waiting for government employment.
Of the 31 girls who are in the intensive pre-secondary course, four will be going to vocational school and the others have all been accepted into various private schools and a few into public schools. We have been able to help all these young women because of your help and generosity.
A number of our girls finished University this year and now we have the first two Maasai women engineers.  One studied civil engineering and the other electrical engineering.  They will be celebrating their graduation next month and then they will look for work.  We are really proud of them!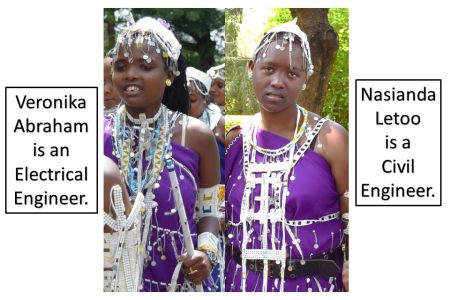 With all these successes, there are still problems in the pastoralist communities. Their plight continues to be difficult. We are in the midst of a terrible drought and the livestock are dying due to lack of water and pasture.  The Maasai communities who have been living in the Ngorongoro Conservation area along with the animals are being moved out to an area hundreds of miles away because the population has grown too much. This exercise is disrupting the lives of the people.  The families of some of our students have already moved and the girls don't know where they are.  They are waiting for relatives to come and fetch them to show them where their families have settled as they go home for the school holidays.  Many mothers made beadwork and sold them to the tourists, but this source of income is no longer present as they have moved far away from the tourists.  The people get poorer and poorer.
We continue to try to educate and empower these marginalized girls, so that education can be a way out of their poverty.  So, I am turning to you for help.  We are moving into the season of Thanksgiving and Christmas, celebrating how good God has been to us in the year and remembering the birth of a little child who was to be our savior.
I know that life is difficult this year with inflation, wars in many corners, the cost of so many things rising, but I still am begging you to be generous to us.  Helping our students get an education is a way to break the cycle of poverty, empowering our girls and giving them the ability to be agents of change in their communities.
We are struggling to support our students, reducing the number of girls we can support due to decreasing income and donations.  I beg you to make a sacrifice in this holiday season and share from what you have with our girl who would be married at this point if we were not helping them to continue with school.
You and your families are remembered in our prayers every day.  May this holiday season be one of peace, joy, thanksgiving and grace for you all. Pease keep u in your prayers.
Sincerely,
Sr. Mary Vertucci
Note:  All donations should be sent via Maryknoll Sisters, Box 311, Maryknoll, NY 10545-0311.  Checks need to be issued in the name of "Maryknoll Sisters", with "Emusoi Center" written on the memo line.  Please include a note designating the gift for Emusoi Center, Arusha, Tanzania.  You will receive an acknowledgement from Maryknoll which can be used for tax purposes.  I will also send you a thank you from here.  If you do not hear from me, let me know about your donation.  It will take 2 months or so for me to get news of your donation. You can also contribute electronically; use this link: https://www.maryknollsisters.org/support-us/donate-now/ Write "Emusoi Center/Sr. Mary Vertucci" in comment/intention field.  If any of you would like to receive this newsletter by email, just write me at emusoicenter@gmail.com and let me know.  Thank you.